19 º WBSC Supercamp Italia 'Claudio Papini International Basketball School'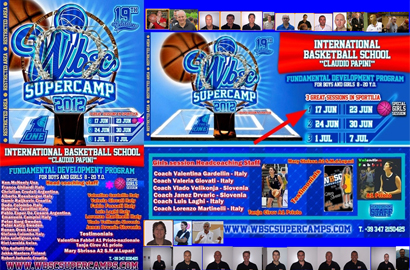 Since 1992 has been organized in Italy the WSBC Supercamp 'Claudio Papini International Basketball School', now in its 19th anniversary. On this occasion, as usual since 2000, the event takes place in Sportilia in a high performance center a little less than 200 kilometers from the city of Bologna.

This traditional summer camp annually welcomes hundreds of boys and girls from all over the world who have the opportunity to improve their skills by the hand of coaches from the United States, Argentina, Spain or Italy, among others.

Organized in three shifts, Supercamp will begin on Sunday June 17th and will be supported by the European Union Association of Basketball Coaches (EUABC), in which the AEEB takes part and his President Juan Maria Gavaldá. Agustín Ignacio and Estitxu Ibarretxe will be invited to this campus by the AEEB, which as did last year with Manuel Peña and Sara Gonzalez, acknowledges the great work done by these coaches in the Spanish Coach Course in 2011 and rewards their work with the chance to enjoy this incredible experience.
Agustín Ignacio will go the second shift (23-30 June) and Estitxu Ibarretxe will go the third and last shift (June 30-July 7).
Socios Institucionales
Otras Entidades
Socios Internacionales
Federaciones Autonómicas
Copyright © 2022 | AEEB